For many people, the arrival of fall signals a time to slow down for a bit and enjoy the leaves changing, cups of warm apple cider, and pumpkin-flavored everything. For you, fall is the start of a busy season that will provide a steady revenue stream to sustain your business for the remainder of the year. As you begin making preparations for another successful season of business, it is essential that you include "obtaining business insurance" on your list of priorities this year.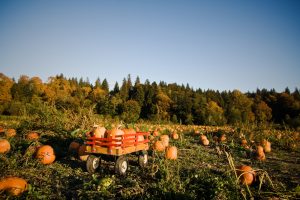 What Is Seasonal Business Insurance?
Seasonal business insurance provides you with insurance protection during the months that your business is in operation. As a fall seasonal business owner, you are likely to be in business during the months of August to November. In that time, any unexpected accident, injury or damage to your property prevents you from opening for the season or remaining open after the event occurs.
Only During the Months in Operation
For that reason, you need to have seasonal business insurance in place. It helps to protect your business assets and income from becoming non-existent when the unthinkable takes place. You will only make an insurance premium payment during the months that your business is open.
What Does Seasonal Business Insurance Cover?
A seasonal business insurance policy provides you with general liability protection for the short-term period that your fall business operates. You receive coverage for situations causing bodily injury or property damage to you, your employees or customers of your business. These types of situations are catastrophic for your business as the relevant costs you face quickly add up. It creates a financial strain on your seasonal business that may result in you having to file for bankruptcy – closing your business before the season begins.
Outdoor Businesses and Accidents
Many fall businesses operate in outside space which enhances the potential for injuries and accidents to take place. For example, if you operate a pumpkin patch during the fall and a visitor falls while picking out a pumpkin, you become financially responsible for the injuries and relevant medical expenses as the accident occurs on your property.
Employee Injuries
An employee may be taking customers around your property on a hayride. While driving the tractor, your employee accidentally damages a customer's car. You are now financially responsible for that damage. Seasonal business insurance also gives you workers compensation coverage that protects your employees in the event they incur an injury while on the job. There is always the potential for an employee to easily sustain an injury while performing normal job responsibilities. Something as simple as moving a customer into a college dorm or taking visitors through a corn maze creates the potential for an employee injury claim. You now face the financial responsibility of handling this situation while having to find a staff replacement for the injured employee as well. Your insurance provides you with financial protection for each of these events.
What Types of Businesses Need Coverage?
Seasonal business insurance provides coverage protection for a variety of different fall businesses for their months of operation.
Moving Company
You may operate a moving company that focuses on helping college students transport their personal belongings to their respective college campus every fall. General liability insurance protects you and your company from damages that your employees may cause while on the college campus property or the student's personal residence. It also gives your business protection against claims of theft or damage to a student's personal items.
Summer Rental
Insurance coverage is ideal when your company manages summer rental properties and prepares those residences for the upcoming winter. That process requires you to utilize pressure washers, chemical products, and other items to clean each unit. You may require the services of a housekeeping business to clean the inside of each property as well. When the property is thoroughly clean, you begin the process of preparing to close the property down for the upcoming winter. Seasonal business insurance will protect you from any damage the housekeeping service or pressure washing process causes to the property.
Dog Walking
You operate a successful pet-walking business that operates during the months of August to December. Anytime you do business with animals, there is the potential for something to go wrong. For example, the slightest noise can spook a dog, causing it to run in fear. As the dog begins to run, you fall to the ground, spraining your wrist. The dog crosses through a yard, causing damage to the homeowner's garden in the process. You now face a mountain of bills that will make it difficult for you to continue doing business.
These are just a few examples of the types of businesses that should have seasonal business insurance in place before opening the doors for the season. As a business owner, you cannot afford to operate without having insurance coverage in place. You benefit by only making premium payments for the months your business is in operation while receiving coverage as if you are open all year.
Thank you for reading our blog! How can we help you? Contact us today.