As an architect, you work to meet every client request and create a final product that meets or exceeds expectations. However, you know that despite your best intentions, things can always go wrong. When that happens, you need the protection that only professional liability insurance provides. Read on to discover the six reasons to get professional liability insurance for architects.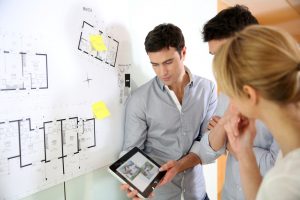 1. Malpractice
Malpractice occurs when a client sustains an injury on a project where you serve as the architect that is providing professional services. Part of your responsibilities on a project includes determining whether or not a building is structurally sound enough so that design work can begin. If a client suffers from an injury on the property after you complete that task, the client can sue you for damages relating to the injury.
Compliance Matters
You are also held responsible for building code compliance, obtaining permits and adhering to any zoning laws in place. Failure to complete any of these job responsibilities correctly opens the door for you to face legal action for malpractice. Professional liability insurance gives you protection in costly legal battles.
2. Errors
Errors include things that go wrong on a project as well as the things that a client is not happy about once the project is complete. You may execute a design plan in a near perfect fashion. However, if a client finds one flaw, you are going to be held liable for the error.
Resolution
When that happens, your professional liability insurance provider works to resolve the situation outside of a courtroom. If the situation does require a courtroom presence, your insurance provider will reimburse you for all legal costs and possibly even for loss of income while handling the legal situation.
3. Legal Representation
You are in the business of designing and creating projects that stem from ideas clients provide you. To create those ideas, you need a variety of tools that are an essential part of your job. There are also designs that you draw up to represent what the client is thinking for a particular project. Because of this, there is the potential for someone to steal a physical copy of your idea and present it elsewhere or to other clients. There is also the potential for clients to become unhappy with your work and files a lawsuit for malpractice or negligence against you.
Someone Working on Your Behalf
It takes time and money to fight legal battles, and that is something that can be difficult to face alone. You need the legal representation that professional liability insurance provides so that you have someone working on your behalf in any legal situation you may face.
4. Negligence
Clients trust that, when you join the project team, nothing will go wrong. You, of course, know that the chances of completing a project without anything going wrong is fairly impossible. Part of your responsibility on a project is serving in the role of project manager. When a problem or issue arises in your absence, you are held responsible for whatever decision the team makes.
Protect Your Interests
If a client feels that something goes against the plan during your time of absence, you may face a negligence lawsuit. You are also responsible for any errors that a third party working on the project makes as well. Professional liability insurance works to protect your interests when claims of negligence take place.
5. Personal Injury
As the architect on a project, you oversee a team of workers that build the structural elements of a plan you create. Some projects require the inclusion of third party crew members that come on the job site as well. There is also the potential for equipment to malfunction, which may cause injury to one or more workers.
Covering the Cost of Injuries
As a project gets underway, the client may want to check out the progress you are making. This means that you may have a person unfamiliar with how a construction site works walking around and looking at structural details as opposed to being aware of the surroundings. You are the project manager and, therefore, will be the one held responsible for these injuries. Job site injuries can be costly when you factor in medical expenses and lost wages if necessary. Having professional liability insurance in place will help offset these costs.
6. Omissions
There are times on a project when you and your client will not see eye to eye on the final design. Clients don't always remember asking for changes along the way, so when a project ends, you may face a situation where the client feels you did not fully complete the job.
Dealing With Displeasure
There are things that they feel you omitted from the final design and are quick to share their displeasure with you. There is the potential for clients to file omissions lawsuits against you as a result.
Professional liability insurance works to protect you when things go wrong. Whether you are at fault or not, insurance gives you financial protection in cases of lawsuits and personal injury situations. It can be the best tool you bring to each project.
Thank you for reading our blog! How can we help you? Contact us today.